Fairfield Bay — "Bloomin' in the Bay"
VBC Master Gardeners' annual plant sale, and a Spring Celebration
for the Family and Season at Ed Leamon Park.
NOTE: Look for Eleanor Hilsenrath and Barbara Foster on Thursday May 7th on KARK TV at 5:45am and Fox 16 TV at 7:10am, teaching how make Authentic Fairy Gardens and talking about FFB's Bloomin in the Bay.
The warm breath of spring is finally HERE, and as Ralph Waldo Emerson says, the "Earth Laughs in Flowers…" and plants… and the happiness that new life brings. On Mother's Day weekend, Saturday, May 9, join the community of Fairfield Bay, the Van Buren County Master Gardeners and a host of local artisans, as spring comes into full bloom at beautiful Ed Leamon Park in Fairfield Bay.
This family-friendly festival is free and open to the public. 'Bloomin' in the Bay' is a celebration of spring featuring the 12th annual Van Buren County Master Gardeners Plant sale, live music, tips and tricks from unique gardeners and local artisans, and hot-grill fare, plus an evening concert featuring the popular folk duo, Still on the Hill.
"We're hosting a celebration of spring, and you are invited," said Verna Hicks, president of VBC Master Gardeners. "Join us as we celebrate our 12th Annual Plant and Garden sale and all the Bloomin' festivities, speakers and artisans. Fairfield Bay is alive with the color of spring."
Morning Glories: 12th Annual Van Buren County Master Gardeners' Plant Sale (8am-1pm)
Love to see things grow? Be sure to spend the morning with the VBC Master Gardeners and select homegrown plants, including herbs, perennials, annuals, shrubs, native plants, hostas and trees. Gardening enthusiasts will enjoy one of the hottest gardening trends: fairy gardens. Come see the tiniest of trees, plants, succulents and accessories. But be forewarned, for some mysterious reason, many find these gardens spellbinding.
Tips & Tricks garden sessions will be sprinkled throughout the morning, along with games for kids, a self-guided nature hike and more than 30 vendors offering unique wares and sage outdoor advice.
Keep the Day's Adventures Bloomin' (1-5pm)
Come early to buy healthy plants and then spend the day exploring and playing in Fairfield Bay.
• Play 18 Holes at Beautiful Indian Hills Golf Resort,
• Go on a Scenic Lake Cruise on Pristine Greers Ferry Lake, or
• Take a self-guided Art Galleries Tour.
Evening: Featured Event, Still on the Hill (7-8pm)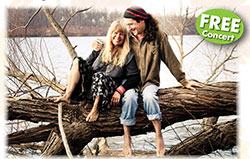 The day's events culminate with concert by popular folk duo Still on the Hill at the Fairfield Bay Conference and Visitor Center. The concert will feature music from the band's new CD Once the River. Experience the creative, high-energy performance of this husband and wife duo as they perform their own style of "new roots" music.
Stay & Play Weekend Packages
Why not stay for the weekend and get the most out of this family event? For more information on vacation packages available call a personal concierge to create a unique trip just for you at 501-884-4202.