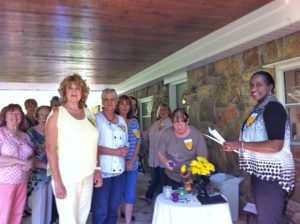 Beta Sigma Phi XI Gamma Kappa met at the home of Sheila Brown on Wednesday, May 4, 2016. Mary Graf served two delicious desserts. After our general business meeting Shirley White, Lisa Duggan, and Rebecca Moore received the Ritual of Jewels Degree. Each received a pin. Mary Graf was presented with the Laureate Degree.
Installation of officers for next year was held: Rose Teer- President, Shirley White- Vice President, Linda Tangen-Recording Secretary, Mary Ratcliff – Treasurer and Ethel Heimann- Corresponding Secretary.
Our Planning Day is scheduled for 11:30 at "No Reservations" In Greer's Ferry Lake on May 18.