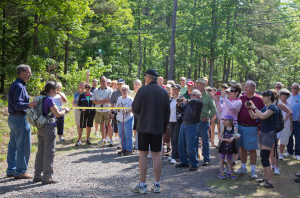 Fairfield Bay was made for hiking and biking. The beauty of this Ozark Mountain lake community is definitely NOT to be missed. There are a few historic hiking trails in Fairfield Bay, like the one of the nations first historic trails, Sugar Loaf Mountain trail. But the more than 100 miles of beautiful roads and primitive mountain biking trails were truly crying out to be mapped for broader use.  Enter Debbi Brawley – an outdoor enthusiast who enjoys horseback riding, skydiving, mountain biking and hiking. About a 1 1/2 years ago, she was horseback riding in the Bay and she started thinking about the possibilities of using the undeveloped roads for so much more.
The Trail Development.
Debbi was introduced to John Conry, a resident of Fairfield Bay and an outdoor enthusiast, and he reached out to Frank Wimberly – president of the Greers Ferry Lake Trails Council, Christine McKnelly – Community Health Promotion Specialist at the Arkansas Department of Health and Frank Webber with Orbea USA. With some great minds and passion engaged, a four-trail system concept was born and planned to be executed in three phases.
The new Fairfield Bay four-trail system will eventually include a separate horseback-riding trail, along with two five-mile trails and one 20-mile trail – all of which are FREE to use.  The beauty of it all is there were no major costs to the city or the community!
Get on Your Hiking Shoes.
Phase I is now complete! Formally named, Lakewood Mountain Bike and Hiking Trail is approximately 5 miles long, challenging and changes elevation numerous times. The trailhead is located directly across from the United Methodist Church on Dave Creek Parkway. The Community Club Utilities Department placed directional arrows along the trail. Trail maps are available at entry signage. A ribbon cutting for Phase I was held on May 11 with a great turnout of hikers. Take a look at the video: http://www.youtube.com/watch?v=vMZuIUIZWDU
The four trails vary in difficulty. Phase II, a 20-mile trail, is the most difficult section, with several significant elevation changes and is set to be flagged in the near future. Phase III trail is 5 miles as well and said to being the easiest and good for beginners. Currently completed with line-of-sight flags, this trail is more level with some creeks (two are very wide) and beautiful rock formations.
A young 4-H adventurer produced a video as part of a project of the trail, and she did an excellent job. Take a look at her video: http://www.youtube.com/watch?v=uvPmQjuyzhA.
Many thanks to Debbi, John, the Community Club Board of Directors, the City of Fairfield Bay and all the many people who were instrumental in making these trails a reality. For more information on the trail system, visit www.thebaytrails.com.
* Maps provided by Debbi Brawley, photos provided by Debbi Brawley, Dan Feuer and Lee Phillips.