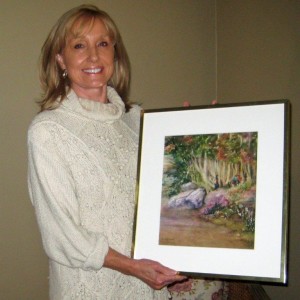 Charlotte Rierson of Fairfield Bay is shown with her award winning painting in the Mid Southern Watercolorist Juried Spring Show.
Charlotte has two paintings selected and received a 2nd Place by the juror. Another local artist, Joy Hartmann, has a painting in the exhibit. The exhibit is being held at the Christ Episcopal Church, 509 Scott St., Little Rock.
Charlotte has donated a painting to be auctioned at the Fairfield Bay Education Center fund raiser CINCO DE MAYO. Charlotte's artwork may be seen at the Art Gallery & Studio, Fairfield Bay Village Mall. Look for her painting and article featured in the Arkansas Life Magazine produced by the Arkansas Democrat and Gazette. A copy of the magazine may be seen at the Fairfield Bay Library or Arkansas Life Magazine website: www.arkansaslife.com. For more information of Charlotte's artwork visit http:/ /www.artspiritunlimited.com/
Throughout Charlotte's life, she has been on what she calls her "Art Spirit Journey." This journey of personal creativity has led her from teaching the dance arts to expressing her deepest thoughts and emotions through painting.
She wants her evocative brushwork technique to beckon viewers to learn more about the images depicted in her Art. She has been referred to as a mood setter and story teller.She says when she moves from the real world into her studio she is entering her own private world. Charlotte designed her studio where she integrates her love of the dance arts. There is a ballet barre and mirror¸ a large window overlooking a beautiful scene of the lake, mountains and rock flower garden. She plays soft background music and has good lighting for her painting space.
When she is painting she leaves all else behind and concentrates fully on the present moment This moment has been referred to as creating on the right side of the brain. She learned painting techniques using the left side of the brain. My painting all comes together and my spirit takes over. She usually starts out with a plan- rough thumb nail sketch thinking about the values, colors, temperature, and focal point. Warming up similar to the dancer at the ballet barre or playing scales on the piano.
When she starts painting she says she looses herself in the moment. This is when she says her spirit, body and soul takes over. She is then in the symbolic space of the painter's world. Charlotte belongs to several art-related organizations, including the local NCAAL. She has been Past President of the Mid-Southern Watercolorists as well as now being the Director of their Regional Advisors.
Her Art has won numerous awards and hangs in public and private collections. Charlotte is a strong advocate for the arts. In recognition, she received the Arkansas Arts Council's Governor's Art Award in the area of Arts Community Development.