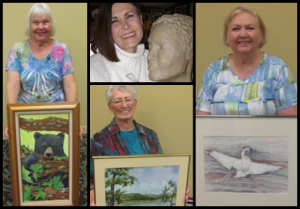 The North Central Arkansas (NCA) Art Gallery in Our Towne Conference & Visitors Centers is featuring their artist's artwork. In this issue we are show casing Sculptor Anne Mitchell and the officers of the North Central Arkansas Artist League.  President- Joyce Hartman, Secretary -Jan Cobb, Treasurer-Bonnie Hookman.
Anne Mitchell, (top middle), has made her home in Clinton having moved from the mountains of southern California.  She devotes her time to the family's small farm and to her studio, and being active with the Arkansas Sculptors' guild.  She has traveled the U.S. and parts of Europe, enjoying the diversity of art and life in these areas.  Currently, Anne is working on her "Equus" series in bronze and has just completed a commission for a U.S. Army Reserve unit. She received her degree at the University of California in Riverside and Master Studies in Art History, Sculpture and Art Courses at Colorado State University, Fort Collins.
Joyce (Hesse) Hartmann, (left), President of the NCA Artist League is an artist, writer and photographer. She paints in several mediums. Her favorite subjects are wildlife, landscapes, floral, figures and commissions. Her M.S. Degree is in in physical education, recreation, and art. While in Kansas, her careers were varied: she was illustrator for Kansas Fish and Game Magazine, taught art and physical education in high school and community college, had her own art business, was a reporter and newspaper paper editor and directed a consortium of post-secondary educational intuitions. Joyce is an award-winning member of Mid-Southern Watercolorists and Conway League of Artists. This summer she won $1,000 in purchase awards in a plein air competition event in Missouri. Joyce is inspired by the beautiful natural world found in the hills, lakes, and rivers surrounding her Arkansas Ozark home, Rock'n'Pine Glades, where she lives with her biologist husband Bob and a coon hound
Jan Cobb, (right), secretary of the NCA Artist League was born April 10th many years ago in Memphis, TN.  She attended the White Station High School and then Memphis State University. Later in life she received an Associate degree in Micro Computer Technology.  Art was always with her. At a young age – "paint by number" and plastic model birds. Later portraits of her black and white cat, Cisco, then knights riding horses with bejeweled blankets and hoods.  Oil and tole painting classes followed with a one year old son tagging along. It wasn't until she retired from First Tennessee Mortgage and moved to Greers Ferry Lake did she devote the time to enjoy and realize my goal of being called "an Artist."
 Bonnie Hookman, (bottom middle), Treasurer of NCA Artist League majored in art education at the University of Central Missouri and the Kansas Cary Art Institute. Though her career path has lead in other directions, she has always found time to paint. Her lifelong love of the art and travel has led her and her husband Jim around the world. She is particularly interested in the architecture and antiquity of Europe. She packs her watercolors first and then records their memories on the spot. She is sought after for commissions to paint the memories of others whether it is travels, homes in the past or present, Arkansas scenes and delights in doing so in her studio located in Fairfield Bay.
The Art Gallery is open to all artists and is juried by a selection committee.  All the artwork is available for purchase.
The NCA Art Gallery is sponsored by the North Central Arkansas Foundation for the Arts & Education (NCAF&E) in collaboration with The City of Fairfield Bay. For more information or purchase of Artwork contact Our Towne Conference Center Directors, Wilba or Bob Thompson-  501- 884-4202, 110 Lost Creek Parkway, Fairfield Bay 72088.