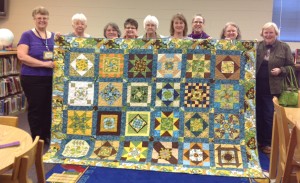 A lively group of quilters gathered to visit and share at Piecemakers monthly quilt club meeting on Wednesday, April 16. Linda LaDoux, club vice-president, welcomed members; Pamela Davis gave the treasurers report; and Victoria Banks, club president, conducted the business meeting. Linda LaDoux presented the Block of the Month. At least twenty members had completed the March block. The winner of the prize drawing was Barbara Spears. Victoria announced that the Extension Homemakers will be having their quilt show again in November. Piecemaker's program in May will be a Tips and Techniques demo by Debi Morton. Eloise Brown let us know that the hospital has a need for more Port Pillows (remember our community project from last year?) If you have time, please make a few to donate.
The Donation Quilt the club members made is complete and ready to be donated to the Clinton Library. Victoria and a number of club members took it to the Library after the meeting to give it to Deborah Meyer. It will be raffled off to raise funds for the Clinton Library.
The ladies of Piecemakers have been busy finishing projects. This month we had an abundant Sew and Tell. We saw: a disappearing 9-patch quilt; a zipper bag; a window bag and fold up thread catcher set; a sewing bucket; a matching tote and zipper bag; a quilt top; a baby rag quilt; burp cloth and diaper & wipes holder; Dresden plate quilt; embroidered orphan block wall hanging; hunter star quilt; placemat sets made with selvedges; strip-pieced star table runner; silly goose quilt in blues; twin sized silly goose quilt; Valentine quilt; string-pieced star quilt; Bow Tucks bag; 2 silly goose lap quilts; big star lap quilt; table runner and bag from strips won at retreat; rag quilt; Inner-twined quilt made from a strip set; baby silly goose quilt with minky backing; t-shirt quilt for a granddaughter; rose quilt; t-shirt quilt for a pilot neighbor; black/white/red quilt; baby bib; butterfly quilt with hand embroidered butterflies.
Ramona Johnson presented the program introducing the "Quilts of Valor" project. Quilts of Valor began with a mother's desire to see that returning warriors are welcomed home with the love and gratitude they deserve. Quilts of Valor are stitched with "love, prayers and healing thoughts" and are awarded as a tangible token of appreciation that says, "Thank you for your service, sacrifice and valor." Since 2003, it has become a national grassroots community service effort; and as of January 2014, there have been over 95,000 quilts awarded to service members and veterans. Piecemakers will be making one or more Quilts of Valor as a combined Community Service Project, Quilt Challenge and Mystery quilt. All members are challenged to make a red, white and blue 12 ½ " unfinished star block. Blocks will be collected at the May and June meetings and will be sewn into quilt tops at the June Sit and Sew. Thank you Ramona for coordinating this effort! Let's all give our whole-hearted support to this project!
Piecemakers next meeting will be May 21, 2014, at 10 a.m. at the Methodist Church in Clinton. Quilters and anyone interested in quilting are welcome to attend.