Brenda Dunlap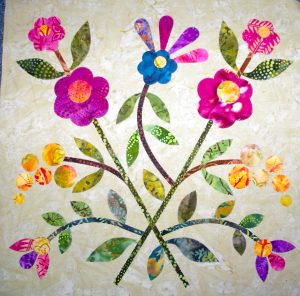 In spite of the rainy spring weather, more than 40 members and guests gathered for Piecemakers monthly quilt club meeting on Wednesday, April 20. Evelyn Eades welcomed everyone and Susan Moore conducted the meeting. We began with a Quilt of Honor presentation. Jill Hardison presented the quilt with the help of Voirrey Dunstan and Bernardine Walter. Rufus R. Gray was our honored recipient. He is a World War II veteran who will soon be celebrating his 91st birthday. He was accompanied by his wife, Bernice, three of his children, a granddaughter, and several members of his VFW in Marshall. After the quilt presentation, members took the opportunity to congratulate Rufus and to thank him for his service to our country.
Following a short break, Pamela Davis gave the Treasurer's report and Virginia Reynolds gave the Sunshine Report. Ida Holt gave a report on the Spring Retreat. Fall Retreat is scheduled for October 3-6. Eloise Brown presented our Block of the Month. Seven members had completed the "Heart Glow" Mug Rug. Winnie Brown won the prize bag. Ramona Johnson will be leading the Sit and Sew in May.
For Sew and Tell this month, we saw: a stars wall-hanging; a mug rug; two watermelon runners; a wrapped clothesline mat; a baby quilt with John Deere tractors; a scrappy runner; a big bag; a batik quilt; a completed, 2015 BOM baskets quilt; a Bonnie Hunter Sisters Choice quilt; a Baby quilt top; a Thousand Pyramids quilt; a Christmas countdown wall-hanging.
Pam Davis presented an informative program on appliqué techniques; focusing on hand appliqué. Following the program, Pam and Rene Riggan demonstrated Needle-turned appliqué and provided materials for those who wanted to learn the technique.
Piecemakers next meeting will be on Wednesday, May 18, 2016 at 10 a.m. at the Methodist Church in Clinton. Anyone interested in quilts or quilting is welcome to attend.