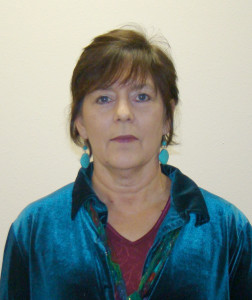 The Fairfield Bay Library has selected Alice Chambers as their new Director. "We are delighted to have Alice Chambers as the Library Director. She brings a wealth of experience, enthusiasm, and a knowledge of Fairfield Bay to the job.", said Doris Wilkinson, Library Board President. "Alice begins at the library on March 4, 2013.
The Fairfield Bay Library will host an open house at the library in early March to welcome Alice and give our best wishes to Sara Michael. Date to be announced."
Alice is a familiar face in the community, contributing smiles of welcome, spontaneous enthusiasm and willing involvement in activities and events. You may have observed her reporting in several local newspapers and websites as she covered school board meetings and council sessions, as well as freelance articles of interest on a variety of subjects from country music to farm and neighbor news.
The popular monthly publication "Life in the Ozarks," her own publication from 2003 to 2009, kept readers informed about the happenings in the foothills of the Ozarks. Her tenure at the Iron Works in Mountain View, Arkansas as Director of Marketing and Sales and Retail Division Manager, enabled her to manage sales teams in major cities in the U.S. and attend trade shows while managing an office staff.
Her commitment to community affairs is evident in her membership on the boards of NCAFAE, Van Buren County Fair Association and the Greers Ferry Lake/Little Red River Association. Personal interests keep her busy too. She has been a clogger for 12 years and is a former member of Eta Beta chapter of Beta Sigma Phi and Arkansas Business and Professional Women. She was named Stone County "Woman of the Year" in 1995.
Alice moved to the Fairfield Bay area in 1995. She is married to Larry, who is retired from the custom cabinet making business. They live between Fairfield Bay and Shirley and are members of the Kirk of the Hills Presbyterian Church, Fairfield Bay. She has one son, Paul Strack, his wife, Jenny, two grandchildren Ava and Connor, from Mountain Home area. Three step-daughters in California, Marie Giles, Melissa Chambers, Janae Chambers-Gonzales and their families. Three rescued dogs, Gus, Sadie and RC.
"I appreciate the Fairfield Bay Library Board for hiring me for the position of library director. Though I will know several, I look forward to getting to know all of the volunteers and the patrons," said Alice.