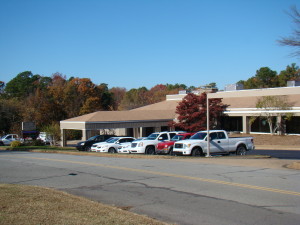 With the support of Arkansas State Representative Robert Dale, the City of Fairfield Bay is pleased to announce the receipt of a General Improvement Fund grant in the amount of $25,172.00. Funds provided in this grant will pay for 10 parking lot lights, a wheelchair lift from the lobby area to the upper conference rooms, 4 additional outlets on the deck, 64 solar landscape lights, repair/replacement of 10 of the recessed building eave lights, and the building security system.
We are pleased that the wheelchair lift will accommodate those in wheelchairs for movement from the lobby to the upper conference rooms without having to exit the building, go up the sidewalk, and reenter through the upper level exterior door. The parking lot lights and eave lights will make for safer evening events, and the solar landscape lights will enhance the wonderful work of the Van Buren County Master Gardeners. Tammy Landry and Mid-Ark Security are donating two years of security system monitoring which gives us great value for the purchase of the security system through them. Mid-Ark has been a great partner with the City as they are also providing the security system at the Community Education Center as a donation.
This grant will be administered through West Central Arkansas Planning & Development District, Inc. located in Hot Springs.