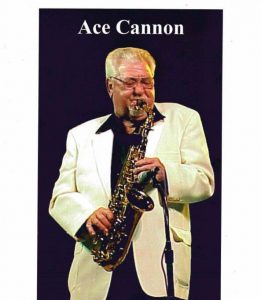 One of America's legends of Pop Music will be back in Fairfield Bay by popular demand. Ace Cannon, considered to be a musical genius, will be at the Fairfield Bay Conference Center on Friday, September 30 for a 7 p.m. concert. His wide and varied repertoire contains everything from rock and roll to country standards to pop, and he is also no stranger to jazz and blues which makes his music appeal to audiences of all ages and musical preferences.
One of Nashville's premier session men from the late '50s through the early '70s, alto saxophonist Ace Cannon began playing at the age of ten and signed with Sun Records during the early days of rock & roll. He performed with Billy Lee Riley and Brad Suggs but then in 1959 joined the original Bill Black Combo recording for the Hi label. He stayed with the band until 1961, when he made his solo chart debut with the instrumental "Tuff," which made it to the country Top 20. This in turn was followed by a Top 40 hit, "Blues (Stay Away From Me)," and a minor hit for the Santos label, "Sugar Blues." He had two more hits in the mid-'60s with "Cotton Fields" and "Searchin'," both recorded for Hi. A decade later, he became the subject of the 1974 documentary film, Ace's High.
After moving to Nashville in the mid-'70s, Cannon's version of "Blue Eyes Crying in the Rain" became a minor hit and was nominated for the Best Country Instrumental Performance Grammy that year. Ace continued to perform into the '90s and frequently toured with such legends of early rock & roll as Carl Perkins, Jerry Lee Louis, Johnny Cash, and Roy Orbison.
In 1986 Ace performed on The Class of '55 album which brought together Jerry Lee Lewis, Carl Perkins, Johnny Cash and Roy Orbison for the first time. Ace is proud to have been inducted into the Smithsonian Rock and Soul hall of Fame, the International Rockabilly Hall of Fame and the Memphis Music Hall of Fame. On May 30, 2009 Ace was presented the coveted Mississippi Legislative Award for his long career and contributions to the music industry.
We are pleased to be able to bring to our community this awesome opportunity for you to meet and experience the music of this American Treasure.
Tickets are $20 per person and are on sale at the Conference Center or by calling 501-884-4202.