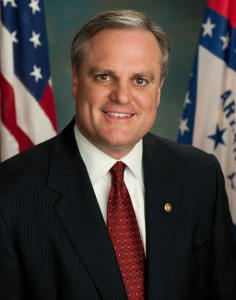 United States Senator Mark Pryor is visiting the Fairfield Bay Conference and Visitor Center on Saturday, May 24, at 9:30 a.m. to see our finished product. At 10 a.m., he will lead a procession to the Lynn Creek crossing on West Cliff Drive and officially cut the ribbon to open the road. As you are aware, we have received significant federal funding. Senator Pryor has been a key supporter of Fairfield Bay and as a United States Senator is among the most powerful and influential persons in the country.
Senator Pryor is the senior United States Senator from Arkansas, serving since 2003. He is the son of former Arkansas Governor U.S. Senator David Pryor. He received his law degree from the University of Arkansas. He worked in private practice for several years until being elected to the Arkansas House of Representatives in 1990. He became the Arkansas Attorney General in 1998 and then ran for the U.S. Senate in 2001.
This is a rare opportunity for Fairfield Bay to host a sitting United States Senator and a chance to show our appreciation for his support. Please plan to attend.