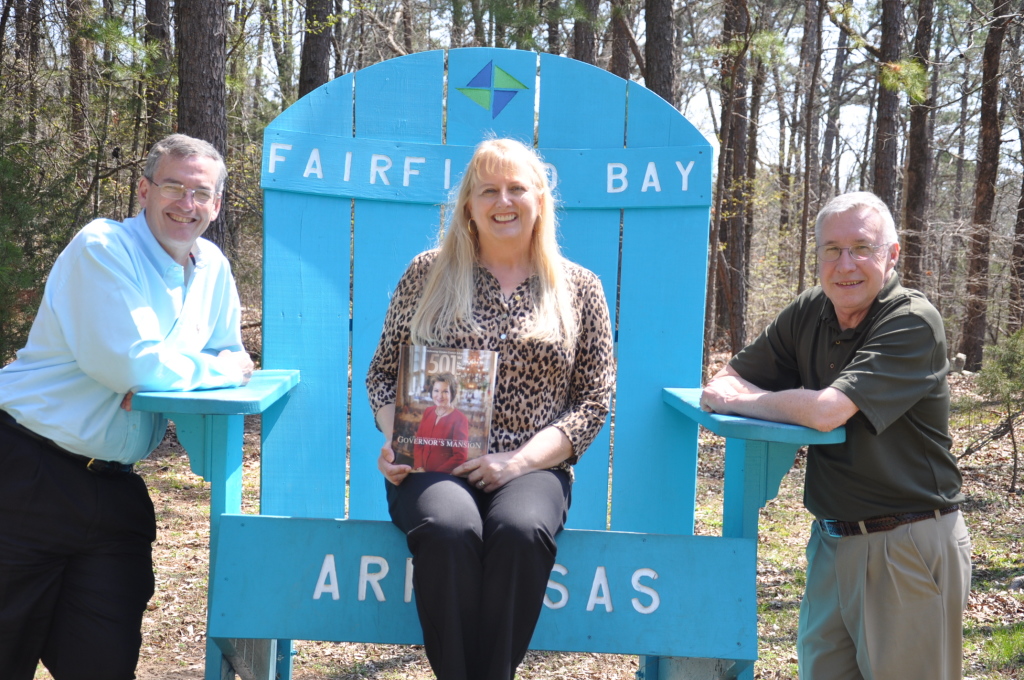 Sonja Keith, owner and editor, 501 Advertising and Publishing, LLC, visited the Bay for a personal tour on March 31. Hosted by Paul Wellenberger, Dwayne Miller, and Erin Taylor of Taylor'd Marketing, Sonja was immersed for several hours in Bay offerings.
The tour included the historical complex and Indian Rock Cave, both golf courses, the pools and a look inside the construction underway at the Cool Pool Cafe. She also visited the Marina, where she released her inner child and participated in the Fish Feeding Frenzy (fun for all ages).
Sonja particularly enjoyed a hike to Indian Falls in Wild Horse Canyon where we encountered a family from Indiana who raved about their earlier hike up Sugarloaf Mountain. Sonja took a photo of that family holding her magazine and promised to include them in an upcoming issue – what a treat for our first time guests to the Bay!
Paul & Dwayne joined Sonja in our traditional Big Blue Chair photo op. We hope that photo makes it into a future edition of her magazine! Lunch at the Little Red Restaurant and a visit to the Conference & Visitor's Center rounded out her Bay experience.
Marketing efforts this year will expand to several placements in the 501 Magazine. Conway's growth has strengthened FFB as a favorite recreational getaway. First placement will be in the May edition with both an ad featuring Bloomin' in the Bay and a feature story about the Bay.
Those of you who seek a copy of this popular magazine highlighting greater central Arkansas (11 counties), will be delighted to know that it will now be available at several locations throughout the Bay. New to 501 Magazine? Pick up a copy soon!