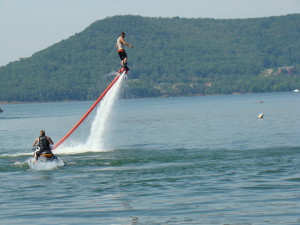 The 2nd Annual Surf the Bay was held Father's Day weekend Friday and Saturday, June 14 and 15 , and what a fantastic couple days at the Fairfield Bay Marina. The weather was fabulous and people came out from all around the state, as well as Texas, Oklahoma, Kansas and Missouri, to enjoy the watersport activities available.
The festival started on Friday at noon with Flyboarding, provided by Ozark Flyboarding, Kayaking and Canoeing, provided by Ozark Outfitters, and Paddleboarding, provided by S&G Extreme Marine and Pro Shop. Dinner was served by Little Red Café and music was provided by "Lucky Draw" to conclude the evening with lots of dancing. Saturday provided much more of the same with Wakesurfing, provided by S&G Extreme Marine and Pro Shop. The National Guard provided the climbing wall and Dale Earnhart Jr's #88 race car. John Keathley, a one man band, and DJ Hammer Dance Party provided the musical entertainment on the docks.
The Animal Shelter held a poker run, with 81 people participating and bringing over $1600 in entry fees and great payouts to the best and worst hands. There was a constant flow of people coming and going Friday and Saturday, making this event a fantastic success.