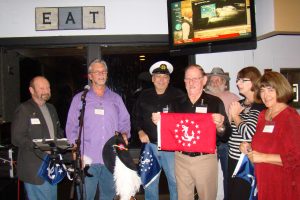 During the Fairfield Bay Yacht Club Christmas Party in December, the 2017 Officers were announced and presented with their officer flags. Pictured left to right is Past Commodore Richard Mills, 2016 Commodore Dan Feuer, 2017 Commodore Jim Beach, 2017 Vice Commodore Sam Lister, 2016 Fleet Commander, Tim Hallet, 2017 Secretary/Treasurer Belinda Lister and 2016 Secretary/Treasurer, Nancy Mueller. Not pictures is 2017 Fleet Commander, Victor Davis.
Be sure to stay tuned for the upcoming events schedule for 2017. The first event of course will be the Membership Drive, then the Blessing of the Fleet.
2016 was a great year for the Fairfield Bay Yacht Club and as Past Commodore, I want to thank my officers for a fantastic job putting the events together. Lets make 2017 a bigger and better year for the newly installed officers and the Fairfield Bay Yacht Club membership.