November 1st – Scenic Drive and Fall Hike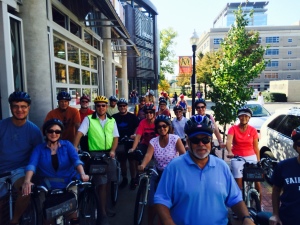 The fall activities of the Fairfield Bay Outdoor Adventure Group will kicked off last week with the annual guided bike ride in Little Rock, with many exciting fall event planned.
Join us: November 1 – Scenic drive to and hike Pedestal Rock and the waterfall hike at same destination. This a very scenic fall drive and hike when the leave colors are at their peak.
Mark Your Calendars
There are many great outdoor activities planned for the fall. Don't miss a single one. Mark your calendars NOW to join us.
Establishing the hiking dates early may help some of you to keep the dates open. We have pretty much hiked the near by trails year after year. But we also have a number of folks who are new to the group, so, I am proposing that every other hike be on a new trail, mostly likely northwest of Fairfield Bay. However, the new trails will require earlier departures, longer drives and later return times. I will re-read Tim Ernst Arkansas hiking trail book and find trails that are both scenic and not too hard to hike.
– November 15 – Get your hiking boots ready, as we'll hit a wonderful fall trail (yet to be determined) up near Jasper. Looking for a new trails we've not hiked before. Ideas? Let us know.
– December 6 – Hiking a section of the Sylamore Trail. Sylamore Trails are situated in the Ozark Mountains, near the confluence of the Buffalo and White Rivers, and passes through a wide variety of scenery, from creek bottoms to mighty bluffs.
In addition, if the water level on the Buffalo River reach's a level to allow canoeing, we will canoe a portion of the river during the fall leave color period. Tom Iverson will take the lead on a canoe trip on the lower Buffalo so we can see the fall colors looking up from the river. This will likely be a short notice canoe trip following a nice rainfall. You will have to be flexible and willing to dress for the weather if you want to go.
If you have questions or would like to participate in in any of these activities this fall please e- mail Tom Welch at [email protected]