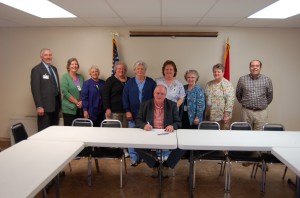 This picture shows community partners of Public Health as well as the staff of Van Buren County Health Department that each have over 20 years of service, looking on as Judge Roger Hooper signs the proclamation celebrating 100 years as of February 25, 2013 of the Arkansas Department of Health. Since the beginning of Public Health in Arkansas, an average of 25 years has been added to life expectancy. Shown are Dr. Jose Abiseid, Van Buren County Health Officer, and representing Van Buren County Health Department are Kathy Waycaster, RN, Ellen Wood, RN, Donna Branscum, RN/Administrator, Linda Gardner, Lead Clerk, Teresa Gates, RN, Regina Booher, LPN, Kay Ross, RN and Darrell Moore with Ozark Health Hospital all in support of this year's celebration of 100 years of Public Health in Arkansas.
The Arkansas Department of Health traces its history back 100 years to February 25, 1913, when the first permanent state Board of Health was established. Over the last 100 years, public health advancements– including controlling contagious diseases, immunizing children and adults, preventing infant deaths, providing good prenatal care to expectant moms, assuring safer food and drinking water–have added 25 years to the life expectancy in the United States.
Dr. Paul Halverson, director and state health officer, said, "When you look back at the health of Arkansans prior to 1913, you see diseases and living conditions that held average life expectancies to under 50 years. Unsafe drinking water and outdoor privies wreaked havoc on the health of our citizens. We had no statewide system in place to register a citizen's birth or death."
"But look at where we are now. Even though Arkansas ranks near the bottom of many health rankings, we have made progress in many areas. In my nearly eight years as health director, we've seen the passage of the Clean Indoor Air Act, the creation of a statewide trauma system, the construction of a state-of-the-art public health laboratory, and the expansion of mass flu clinics and school flu clinics throughout the state. We will continue to strengthen our efforts to improve oral health and reduce obesity, tobacco use, chronic diseases, teen pregnancies and infant deaths. Public health professionals and our partners across our state are working hard every day to keep our hometowns healthy," Halverson said.
Donna Branscum, local health unit administrator, Van Buren County, said,"The Arkansas Department of Health has been serving the citizens of our county since February 1913. We are excited to be a part of the statewide observance of 100 years of public health in Arkansas." She also states. "That improving the health of our citizens involves not only the Health Department, but the efforts of the hospital and medical community as well."
The Van Buren County Health Department will have a reception celebrating 100 years of Public Health on April 5, from 1 to 3 p.m. This will be in conjunction with the opening of our new Breastfeeding Resource Center.
The key note speaker for this event will be Dr. Gary Wheeler, Senior Physician Specialist with the Arkansas Department of Health. Everyone is invited to join us in our celebration of 100 years of Public Health Service. Refreshments will be served.