Great Day to go on the Lake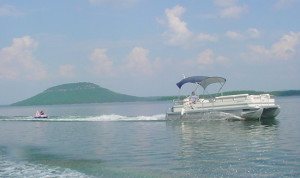 It's a beautiful morning, the sun's shining, the temps not too high and there is nearly no humidity and the thought immediately comes to mind… "WHAT A GREAT DAY TO GO OUT ON THE LAKE". You immediately go inside and announce to the family, "LETS TAKE THE BOAT OUT ON THE LAKE"! Everyone agrees and immediately make preparations to leave for the lake. Food, drinks, sun screen and other required items are packed and ready to go.  But what about the boat – is it ready for a day on the lake? Breaking down on the lake can really ruin what should be a very enjoyable time. Some basic checks can avoid the nuisance of being towed off the lake.
1) If you trailer your boat, always make sure that the trailer lights are operating properly, the tires should be aired up to proper pressure, the tires should have good tread, and the wheel bearings on the trailer should be properly serviced. All required safety equipment should be aboard the boat and operating correctly.
2) How about that battery, does it have a good charge?
3) Check the gas tank and either fill on the way to the lake or stop at one of the marinas for fuel if needed.
4) Now that you are at the lake check to make sure the drain plug is installed BEFORE launching the boat. If you store your boat in a slip on the lake all items mentioned apply except for the trailer.
5) Safety equipment includes PFD's ( Life Jackets ), make sure you have one Coast Guard Approved floatation device for each person on-board.
The basic checks mentioned will help to avoid a break down and being towed off the lake. If you have ever broken down on the lake you may have noticed that getting a tow may not be an easy task. Some boaters passing seem to look away from your distress waves and cruise right by without a glance. But for the most part it seems that someone usually comes by with some helpful assistance.  " ENJOY YOUR DAY ON THE LAKE. "