Fitness Tip for Spring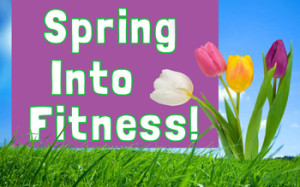 Spring is just around the corner!! Spring is a perfect time to quit thinking about how to start exercising and just do it.
Here are a few things to get you going:
-Pick a room in your house to clean and organize through the week.
-Carry a bottle of water with you when you go places.
-Find an exercise that you used to do when you were a kid such as skipping, jump rope, jumping on a trampoline or hopscotch.
-Find hiking and biking trails in your area to explore, or sign up for a 5k to walk or run. Always use the buddy system to help stay motivated.
-Lastly, eating fresh fruits and veggies will also help you begin your journey to a healthy lifestyle.
Cassie Bartley
Hart Center Fitness Coordinator