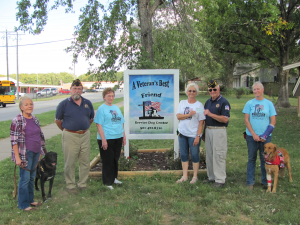 Pictured L to R.  Frances Kirk & Domino, Rick Pierce, Ann Hopper, Kathie Ball, Lee Johnson, Carrie Shelby & Scarlett.
There are PTSD Service Dog Trainers in Arkansas. A VETERAN'S BEST FRIEND in Cabot, Arkansas is the one. The American Legion Post 333 of Fairfield Bay has donated $2500 from our 4th Annual Golf Tournament last July. They have been at the present location for about 1 year and need to expand. A VETERAN'S BEST FRIEND gets their service dogs from the Arkansas Prison System Training Program, animal shelters, and some private citizens. Different breeds are used depending on their temperament. Kathie Ball, Director of Training, said the Service Dogs go through 6 up to 18 months training course by the organization's Service Dog Trainers like Frances Kirk and Audrey Jones. We could see the difference between Domino, new to training and Scarlett with Veteran Carrie Shelby. The Service Dog is paired to a Veteran for another training period, which is determined by their progress together. Once Veteran and Service Dog goes home, there are follow up visits to see how the pair is getting along. A VETERAN'S BEST FRIEND saw a need and are helping to fill it. Great Job. Ann Hooper is the treasurer, she said if you feel the need, send donations to: A VETERAN'S BEST FRIEND P O Box 68 Cabot, Arkansas 72023.
American Legion, Post 333 of Fairfield Bay, is proud to support these Veteran programs.