Tom Edwards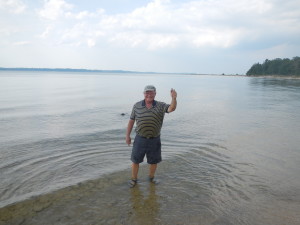 When I was in Traverse City, Michigan, I visited with my friends, Tom and Arne Havens, who live ona beautiful Long Lake.  One day their son, Matt and I went on a ten mile hike to look for Petoskey Stones.  We did well as I had fifty two pounds of them in my backpack on the way back.  I was afraid I was going to need a tow truck but I made it.
The Petoskey Stone is a fossil colony coral.  Each six-sided spot on the Petoskey Stone was a separate individual, which built up a living structure by extracting calcium carbonate from the sea water. You won't see any of them growing now as they are about four-hundred millions years old.  The stones almost look like ordinary rocks, but when polished, they turn into one of nature's beautiful work's of art.     In 1965, Governor  George Romney  the father of the next President (Ooops), signed a bill making the Petoskey Stone the Michigan State Stone.  Appropriately, Miss Ella Jane Petoskey, the only living grandchild of the Indian Chief Petosegay, who the stone is named after, was present at the signing.
The next day Tom, Arne and I  made a journey to Charlevoix like Traverse City, is a beautiful town on Lake Michigan.  After a lunch of Walleye and Whitefish we waded into Lake Michigan and found some Charlevoix Stones, a miniature version of the Petoskey Stone.
As you travel and meet people everyone soon asks  were you are from.  While getting my bike worked on, I met a group of young people who were biking across America. I asked this Irish looking girl where she was from and she said, "Singapore."  Just what I was thinking.
In Traverse City I saw my first Baltimore Oriole in the wild. They are almost as pretty as Petoskey Stones. Each night the Loons put me to sleep, while they talked to each other.  Speaking of Loons, I went to another baseball game. This time it was between the Grand Rapids Whitecaps and the Great Lake Loons. Minor league teams really know how to pick some great names.
I am heading for Colorado and am sure something interesting will happen there.