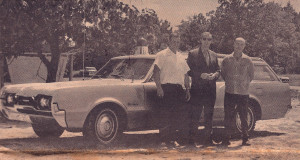 This photo appeared in the August 1970 issue of the Fairfield Bay News. The Oldsmobile ambulance and three of the drivers are pictured. Dick Bailey, Bob Thompson and Bud Haislip are shown left to right. The ambulance was equiped with a resusitator, two stretchers, oxygen, first aid equipment, two way radio equipment, siren and air conditioning. A total of eight drivers and ten attendants were qualified on the squad.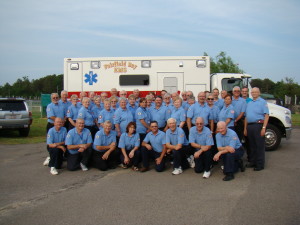 In 2013 the Fairfield Bay Rescue Squad has 18 drivers, 12 EMTs, 18 second medicals and two fully equiped ambulances.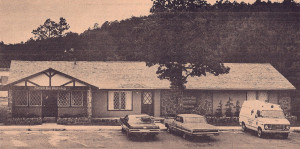 This photo was taken from the March 1974 Fairfield Community News issue showing the Fairfield Bay Medical Clinic that was conveniently located in the community town center at the corner of Greenwood and Hwy 330.
The Front Porch…your living in a small Ozark town, population 150 more or less. You want something to do, walk to your neighbors, sit on the front porch, share a swet cold tea, bring out the fiddle or guitar and sing country tunes. Oh, did I forget to say you weren't invited. Well, that didn't matter, it never dawned on anyone they wouldn't be wecome because people were more social back then and everyone counted on each other for help. Picture ladies sitting together on the front porch, SNAP! What was that? Oh yea, I remember it was the sound of greenbeans, children playing, shucking corn and the lazy dog of summer. What started the decline of front porch sitting? Could it have been air consitioning? The phone? I guess it doesn't matter now. We have texting. Stay tuned. Marylin Robertson