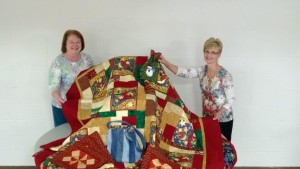 The Kirk of the Hills Presbyterian Women's Holiday Bazaar will be held Saturday, November 2, beginning at 9 a.m. in the Fellowship Hall at the Kirk. There will be baked goods to savor or save for the holidays, home canned pickles, relishes, jams and jellies, soup and cookie mixes and of course, hand-made items, including jewelry, embroidered items, holiday décor, and fun things – all of which the ladies of the Kirk have made. Knives will be sharpened for a modest donation, so gather up those with dull blades and shop while you have your knives sharpened.
The public is invited to come and enjoy, with holiday shopping in mind. We'll have lunch served by our Kirk men over the noon hour. Come enjoy their famous grilled hot dogs and all the trimmings or a bowl of Jerry's jambalaya.
Tickets are now on sale for the drawing, priced 6 for $5 or $1 each, with the chance to win one of three great prizes. If you want tickets or have any questions, call Lois 884-6281 or Kay 884-7274.
Shown right, Lois Sancho and Kay Otis display the items for the drawing at the Kirk Women's Bazaar in November. A Christmas quilt, fall colored quilted placements and table runner, and tote bag are this year's prizes.