Mark Harbour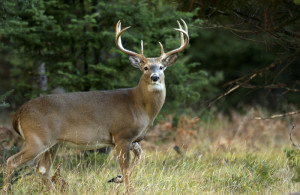 The third Fairfield Bay Urban Deer Hunt season will open September 7, 2013 and close January 31, 2014. New this year is No Hunting Areas. The No Hunting Areas are subdivided neighborhoods where houses are located close to one another. A map of the No Hunting Areas is located in the Mayor's office or on the AGFC website under Urban Deer Hunts. The No Hunting Areas are designed to address residents' concerns about safety and hunters being too close to homes.
We need your help to monitor activity during the deer hunt. Hunters must have a placard on the dashboard of their vehicle. If you find a vehicle in an unusual location without the placard, report it as a suspicious vehicle. Hunting violations may be reported to the AGFC 800-482-9262 or Fairfield Bay Police 501-884-6004. If you find a deer stand, feeder or camera without a name and phone number on it, please contact Mark Harbour 501-551-1858 so the stand can be removed.
All land in Fairfield Bay is private land. Hunters must have written permission from the land owner and an AGFC permit to hunt anywhere in Fairfield Bay. Hunters are given permission to hunt Community Club and Wyndham Resort property until November 30, 2013. After November 30, 2013 hunters must obtain written permission from other land owners to continue hunting.
The 2012 Fairfield Bay Urban Deer Hunt season came to an end with 292 deer harvested. Lori Bates, at Clinton Meat Processing, reports that her facility alone received 135 donated deer resulting in 5,072 pounds of meat for four different feeding agencies. Hunters Feeding the Hungry pays for the processing of these donated deer with funds received mostly from hunters.
The first deer density spotlight survey was conducted in 2011 by the AGFC. The result of that survey was 150 deer per square mile, well above the optimum number of 42 deer per Ozark square mile. Subsequent surveys were 138 deer per square mile in 2012 and 144 deer per square mile in 2013. Once the urban archery hunts started, the deer density stopped growing and deer numbers leveled off. The Fairfield Bay deer herd is currently healthy and would grow to unhealthy numbers if not controlled.
If you need more information on the Fairfield Bay Urban Deer Hunt, feel free to contact Mark Harbour, Deer Coordinator, on Facebook at Fairfield Bay Deer Hunt, by email at [email protected] or call 501-551-1858.