Charlotte Rierson is an truly an accomplished artist. Her work is astounding, and her passion for the arts is remarkable. She was recently the featured artist in the Arkansas Life Magazine, April 2013, showcasing "Winter Splendor II". We are so proud to have her in our community. She's pretty amazing. To learn more about Charlotte's work and her personal 'spirit art journey' go to www.artspiritunlimited.com
Jordon Hickey's article in the Arkansas Life Magazine: April 2013
About the Artist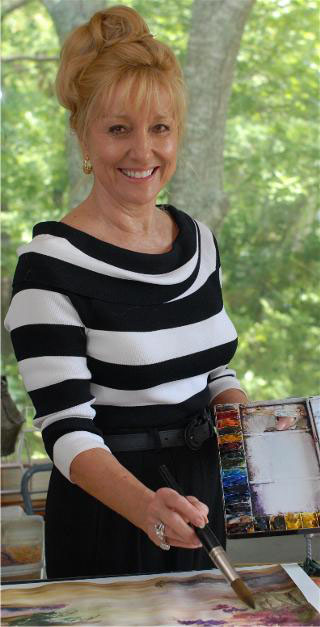 There's a barre in the studio, a mirror that spans the wall, and the reflections of wooden floors and windows, which Charlotte Rierson, transitioning from first position to second, eyes as she prepares to paint. For the award- winning Fairfield Bay artist, the fluid movements of dance, which, as she's gotten older, are not quite as fluid as they once were, spur a creative spirit that ebbs into her work on the easel.
"With the dance arts, we express ourselves through movements, but after a while, there comes a time that your body won't allow you to do this," she says. With the faltering of body, she says, watercolor has taken up slack. "[Watercolor's] like dancing, it's like choreographing a dance while I am choreographing a painting, and it evolves."
Her paired interests have persisted through the years, though not without some change-her painting for example, has progressed from a more rigid realism to the watercolor impressionism that now defines it-but her desire to share those gifts and inspire others as an educator and supporter of the arts has remained a constant since she first started teaching dance when she was in the eighth grade, And considering the litany of awards she's garnered including the Arkansas Art Council's Governor's Art Award in Community Development of the Arts, which now hangs in her office, those efforts haven't gone unnoticed. jph
A little bit about Charlotte and her Fairfield Bay life.
When Charlotte and Don moved to Fairfield Bay they immediately got involved with the community. They are active members of the Presbyterian Church where Don is an Elder and Sunday school teacher and Charlotte was a substitute driver for the church bus. There was a newly organized North Central Arkansas Foundation for the Arts and Education, (NCAFAE) and Charlotte helped develop their programs. She was awarded the Arkansas Arts Council's 1998 Arkansas Governor's Arts Community Development Award. Her most gratifying accomplishment occurred when she was the volunteer executive director for North Central Arkansas Foundation for the Arts & Education and brought fine arts exposure into the 13 school districts in the three-county area. This program continues to this day, helping to develop local children's appreciation of quality music, dance, poetry, drama, and the visual arts. She enjoys developing and bringing new art programs to the community.
During her "Art Spirit Journey" Charlotte has gone from choreographing and teaching the dance arts for many years to now expressing her artistic spirit through the Visual Arts of painting
Charlotte is a member and Past President of the Mid-Southern Watercolorists and presently their Director of the Regional Advisors, the Arkansas Artists Registry, Repertory Theatre Artworks, the North Central Arkansas Artists League, the board of the Arkansas Artists League, and Arkansas Artists.
She has won numerous art awards; her paintings have been juried into exhibits with the Arkansas Arts Council's Small Works on Paper 2003-04, 2004-05, 2009; 2012 and one of her paintings won the Small Works on Paper's purchase award and is in the permanent collection of the Arkansas Heritage Commission. Charlotte had one of her paintings selected to be in the Arkansas Artists Exhibit in Washington D.C… One of her award winning paintings is now in the permanent collection of the Historical Arkansas Museum in Little Rock. She also has artwork in permanent collection of the University of Central Arkansas and the Ozark Health Center in Clinton. One of her works was selected for the Arkansas Governor's 2008 Calendar and another hangs in the Clinton Presidential Library's Permanent Collection. Charlotte has artwork exhibited throughout the state. . She will have paintings on display at the Repertory Theatre's production of "Avenue Q". Charlotte had a One Woman Exhibit at Garvan Woodland Gardens in Hot Springs, the Ozark Heritage Art Center and Museum in Leslie, Cleburne County Art Council Art Gallery in Heber Springs and will have an exhibit at the Fairfield Bay Library this summer. Charlotte has artwork featured in the art books "A Gathering Of Artists"Vol. II and "Art & Artisans of the Ozarks" Vol II. Most recently she was featured in the April issue of Arkansas Life Magazine. Her artwork is represented by the Art Gallery & Studio in Fairfield Bay.
Charlotte says, "I have a deep sense of caring and wanting to reach out to others through the Arts. The North Central Arkansas Foundation for the Arts and Education in collaboration with the Fairfield Bay Community can be a way of channeling groups and individuals in to a greater awareness and participation in the cultural arts."
Charlotte's art continues to evolve as she reaches greater heights with each new painting, exemplified by the many award-winning works, Charlotte says she does not know where her "Art-Spirit Journey" will take her, but will remember her family, friends, teachers, and supportive husband who have helped her along the way.
Charlotte's Art-Works may be viewed on the following websites:
http://www.fineartamerica.com/profiles/charlotte-bailey-rierson.html
http://arkansasartists.com/arkartist_2_22_07/Charlotte_Rierson.html
http://midsouthernwatercolorists.com/
http://www.arkansasarts.com/programs/registry/detail.asp?id=81