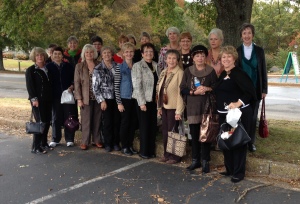 Members and guests enjoyed a bus trip to the Arkansas Arts Center in Little Rock. The group boarded the Fairfield Bay bus at the mall on Thursday, October 23, After a delicious lunch at the Arts Center, the group was divided into groups of five for a guided tour of the museum. This was a very educational and enjoyable day. Thanks to our Social Committee for the planning of this event.
The October l3 meeting was held at the home of Olivia Dowell, hostess, and Kathy Harvey, co-hostess. The program Wardrobe Redefined was presented by Morgan Jesseup.
The November 13 meeting will be held at the home of Kay Otis with Collene Halldorson as co-hostess.