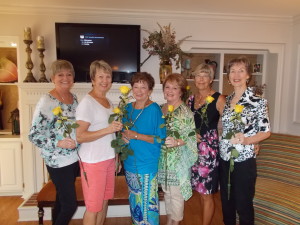 Pictured left to right are the newly elected officers of the Zeta Sigma Chapter: Patti Leitner, Advisor-Frieda McClellan, Vice Pres.-Mary Baker, Correspond-Sharon Luxon, Pres-Georgia Peifer, Treas-Judy Wheeler, Rec Secretary.
The officers hosted Beginning Day on Aug 28 with a special party at the home of Sharon Luxon. The theme was Celebrate our Sisterhood. Refreshments consisted of tea sandwiches, fruit, cheese tray, dessert and drinks. It was enjoyed by all.
The program was presented by Sharon Luxon, Pres. It was a brief and delightful guessing game participated in by all members. Sharon read a description of the best qualities of a certain member. The group then had to identify the individual described. At the closing, each member was presented with a yellow rose.
Regular meetings are on the 2nd Thursday each month. Socials are held the 4th Thursday. The Social Committee is making arrangements for the September Social (a cookout) to be held at the home of Charlottte Cumings.