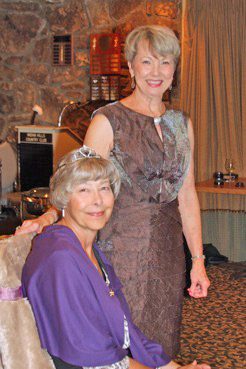 Wow, Zeta Sigma has had some stuff going on! Seems like time has sped past and the news hasn't been posted, so here we go. March we met at the home of Bonnie Lang. Linda Lynch was the co-hostess. Linda and Neva Thompson were introduced as our newest Ritual of Jewels members and their ritual was preformed after the business meeting. Our program for March was the completion of the Interest Questionnaire for the upcoming year. Everyone present was able to express their desires as to their "jobs" for 2016-1017.
Then on to April. We honored our beautiful Queen ,Georgia Peifer, with a reception held at Little Red in the Fireside Room. She was presented to the chapter by President Freida McClellan. Georgia was crowned and draped with her royal shawl pinned with her queen's pin. Music was provided by Greg Duggan and that certainly added to the festiveness of the afternoon. Congratulations to Georgia.
The business meeting for April was held at the home of Dolores Heitbrink with Marie Niec as co-hostess. The slate of officers was presented and voted in to serve the year of 2016-2017. Georgia Peifer will be the President and has capable help with the slate that was elected. The program for the meeting was "The Colors of Beta Sigma Phi" given by Tauna McBee and her Rainbow helpers. We were instructed about the colors used to help us grow as members and understand their meaning for us. Later this month all chapters of Beta Sigma Phi will honor our founder, William Ross, at Founder's Day. This event is held yearly in his honor.
The May meeting will be held at Little Red, with a luncheon and installation of next year's officers.