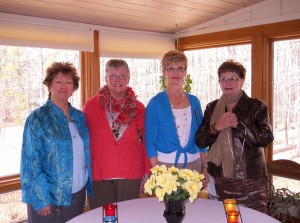 The March meeting of the Zeta Sigma sorority was held at the lovely home of hostess, Bonnie Lang with her co-hostess, Charlotte Cumings. President Marie Niec led a brief business meeting.
Following the business meeting Mary Baker, Program Chair, introduced our speaker, Sandy Olson. Sandy shared her hints for successful use of our I Phones and took questions and answers.
Carol Palmer, Marie Niec, Barbara Polodna (with Mary Baker standing in for her) and Kay Otis received their Preceptor badge during the ritual.
A fun time was had by those attending the "Ice Cream Social" last week at Bonnie Lang's home. Bonnie & Tauna McBee showed us how to make our own personal flavored ice cream by mixing cream ingredients and shaking them in bags of ice for a period of time. Giggles and song were heard as we shook our ice cream to perfection. It was delicious! Thanks, Bonnie & Tauna.