Xi Gamma Kappa (XGK) sorority held a business meeting on February 11, 2015 at Vicki Leith's home. Co-host Mary Ratcliff prepared brownies, tea and coffee at the delight of the Sisters. The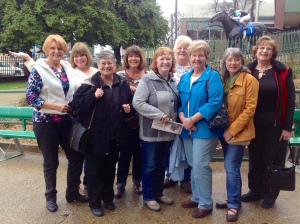 main topics of the business meeting were: decorations for the Queen's Ball, trips to a movie in Conway and the Oaklawn Park, and the Spring Style Show. Each Style Show committee gave a progress report. After the meeting, the sisters worked on special pencils and notepads for the upcoming Style Show.
The March business meeting was held on the fourth at Nancy Mueller's home. Vicki Leith co-hosted the meeting and served crunchy brownies and coffee-lemon cake with iced tea and coffee. After the Sisters enjoyed the wonderful desserts and beverages, Nancy Mueller gave an informative presentation on the archeological history of the Indian Rock Cave and surrounding area.
Before the business meeting began, the Sister's gave a warm welcome to our new pledge, Shirley White. Major topics of the meeting were the Oaklawn Park trip, the Queen's Ball set up and decorations, and the Spring Style Show, which will be held on April 10th. The Style Show models met after the meeting to discuss arrangements for selecting the fashions that will be featured in the Style Show.
On the morning of March 12, the Sisters and their spouses boarded a bus bound for Oaklawn Park. Libations and merriment were aplenty on the bus as well at the Park. The Park's specialty, corn beef and cabbage, was enjoyed by many in the group. Unfortunately, no one was a a big winner at the track but a few managed to take away a "fist full of dollars" from the casino.
Beta Sigma Phi's Queen's Ball was held March 14. XGK was well represented with eleven sisters and their spouses attending the function. Our queen, Shirley Rudolph was crowned by her husband, Jim and pinned by fellow Sister, Rose Teer. The Sister's enjoyed a night of fine food and dancing.