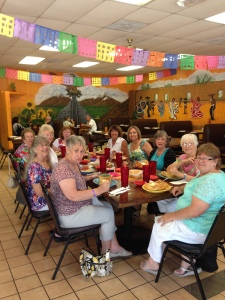 The XI Gamma Kappa Chapter of the Beta Sigma Phi gathered at the El Poblano restaurant August 27, 2014 to begin their new sorority season. We had a wonderful lunch and enjoyed catching up with each other over the summer's events.
On September 3, 2014, we met at our new President Shirley Rudolf's home for our first business meeting. Rose Teer co-hosted the meeting and a delicious dessert with iced tea was served. All active members were in attendance.
Chris Lang was our featured speaker. She gave us an informative presentation on the Fairfield Bay's Emergency Management Plan. It was enlightening to know the amount of research and coordination it takes to have a comprehensive plan for our community in case of an emergency situation (i.e. tornado, earthquake, forest fire, etc.). We are so fortunate to have such dedicated personnel to coordinate and act during emergency situations. Chris also showed us how to put together a portable emergency kit.
In addition to Chris' presentation and business meeting, our new members, Mary Ratcliff, Vicki Leith, and Linda Tangen were presented with Certificates of Dedication from our National Beta Sigma Phi Executive Council.