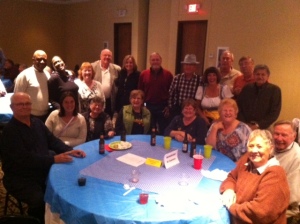 The Xi Gamma Kappa sorority gathered at Janssens on the Lake on September 18. Nearly all of the members and their husbands enjoyed a wonderful lunch with beautiful views overing looking the lake.
On October 1, a business meeting was held at Ethel Heimann's home with Bonnie Raymond as the co-host. Pam Leal, of Ozark Health Home Care, gave a presentation on home health care. This is a subject of great interest to our members since so many of our loved ones are reaching the age where this service will be needed. Bonnie, in addition to being very informative, was very entertaining. A delicious dessert and refreshments were served and enjoyed by all.
On October 11, 2014, the sorority ladies and their spouses attended the Fairfield Bay Oktoberfest dinner and dance held at the Convention Center. Again, almost all of the sorority members and their husbands attended the event. The night was a complete success with great German food (and beer) and dancing. Laughing from our tables could be heard throughout the room.