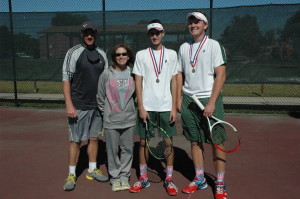 Picture left to right (John Paxton- Local Tennis Pro, Nancy Nicholson-West Side Greers Ferry Tennis Coach, Dylan Jones and Ben Hargrove).
West Side Greers Ferry Boys Doubles Tennis Team of Ben Hargrove and Dylan Jones (both of Fairfield Bay) won their second 1A/2A State Championship in Jonesboro on Tuesday.
Last year was the 1st year these boys teamed to play doubles and they swept through the 1A/2A state tournament without losing a set finishing the year with a 23-1 record, losing only to Bentonville, the 7A state champs in the Overall State Playoffs at Burns Park. They defeated the 4A state champs, Subiaco Academy, in the 1st round of overall state before meeting Bentonville.
This year as returning state champs and seniors, the boys set their goal on nothing short of a repeat of 1A/2A state champions. Practice was harder to make time for this year as work and other sports kept them busy but they found enough practice time to meet their goal. They won the district tournament held in Fairfield Bay and advanced to the state tournament in Jonesboro. In Jonesboro, the boys drew a bye in the 1st round and defeated East Poinsett County 6-1; 6-0 to advance to the semi-final round. In the semi-final round they beat one of the strong Riverside teams 6-4; 6-2 to secure a chance to play the other Riverside team in the finals. They won the final match 6-1; 6-4 to capture their second state championship doubles title. They advance to the Overall State Tournament next week in Burns Park.