NEW Disc Golf – one of the fastest growing sports in the US
Professionally-Designed Course in Beautiful Woodland Mead Park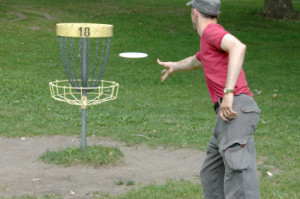 Did you hear? Just beyond the Woodland's Miniature Golf Course, features one of the fastest growing sports in the United States – Disc Golf! This incredible new course joins about 2500 other Disc Golf courses in the world. Our beautiful walking and woodland areas, located between enormous living rocks, make the 9 hole, professionally designed course, a challenge and lots of fun for both avid professional disc golf players and amateurs.
Located close to the new Ed Leamon & Woodland Mead Connector Trail, walkers & players will enjoy the newest amenity in the Bay. With prices very affordable at $3 per adult, $1 for students under 16 and FREE for kids 3 and under, throwing that disc and enjoying our beautiful summer weather may be just what your new healthy lifestyle needs! For more information about Disc Golf and all the other great activities at Woodland Mead Park call: 501-884-6038.
Ann Helmbeck
Recreation Manager