NEW: Woodlands Disc Golf Course- it's coming!!!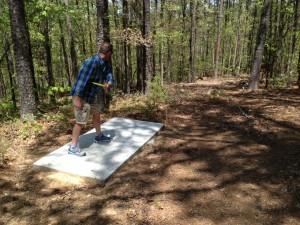 The crew from the Utilities Department has been working feverishly in many areas of the Bay, and one such area where they've made great progress is at the new Woodlands Disc Golf Course. Most of the needed trees in the fairways have been downed and removed.  Eight of the nine concrete tee pads have been poured and baskets (the target in disc golf) will soon be placed in concrete footings. The course's winding path in and out of the woods will begin from a tee box behind the playground at Woodland Mead Park (as seen in the picture).  From there, players will enjoy nine, par-3 holes that are family-friendly — but don't mistake that for easy! This course will definitely leave you with an eagerness to return soon and try to lower your score.
The course layout is designed so that rather than staying hidden in the woods, it emerges to come uphill under the power lines and loop around the gardens of Ed Leamon Park. This brings players out into the open where local traffic will be able to see the fun activity and ideally be lured out of their cars and into the woodsy adventure. But don't worry, it's been designed to be safe for participants and drivers alike! It also traipses close to the Nature Trail, but once again, there will be no danger as walkers and players will be able to clearly view each other.
The popularity of disc golf has really taken flight in the past 10 years and we are truly excited to have the opportunity to offer such a unique course. Championship courses are traditionally 18 holes, but with our course being targeted at mainly vacationers and "hackers," we didn't want to scare anyone away with too challenging of a design. The course, though, with some modification could be broadened into an 18-hole offering at a later date.
The course was designed by Doug Trantham from Bryant, Arkansas. He is a full-time school teacher who owns his eponymous business, Doug Trantham Designs, utilizing his other passion of designing courses and running disc golf tournaments all over the country. Doug likes to install a signature hole on each of his designs and his singular showpiece for the Woodlands Course is a basket placed atop a giant rock formation. It's sure to be a worthy challenge and definitely a sight to see!  He will also use his expertise assisting us in the marketing and administering of special events and tournaments at the course to attract players from all over the state and even beyond.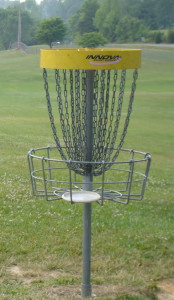 Competitive players use their own set of discs which vary in weight and flight characteristics. They carry sometimes as many as 25 discs in a backpack which they take off and set down before each throw. Our disc rentals are a two-disc set with logos which feature an all-purpose disc and a "putter." We will also offer "starter sets" of three discs for purchase.  Golfers will tee off from the 4' x 8' concrete pads, replete with hole signs that delineate the hole distance (ft.) and orientation. After the tee "shot" the player will have two more shots for par to land their disc in the metal basket (shown in picture). The sturdy metal tee-box signs will also feature a sponsor, so if you have a business, organization, or club who is interested in the opportunity, please contact the Recreation office for sponsorship levels, benefits and pricing.
The course presents a great new revenue source and will be a unique addition to our local attractions offering family fun in the Bay. Prices will most likely be identical to those of mini golf and we will sell weekly and season passes, and even a combo for both types of golf! We will tee things off by Memorial Day Weekend, if not sooner, so be on the lookout for information on our website, Facebook, or around town. We will hold an official grand opening event with food, music, prizes, and possibly even a fun theme, so be sure to attend and be one of the first to delight in the sport here in Fairfield Bay.  Call the Recreation office at 501.884.6008 with any questions. We'll see you soon in the woods at the Woodlands Disc Golf Course!
Visit www.discgolf.com or search on www.youtube.com for instructional videos