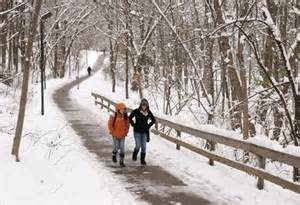 Cold Weather Health Tips
Fall and Winter are just around the corner.  For most people, it's hard to stay active when cold weather hits.  So here's a few tips to help you stay active during the winter:
–     Walk with friends around an indoor track
–     Go to a mall and window shop while you walk
–     While you watch TV, use small hand weights to do resistance training
–     Take the stairs whenever possible
–     Bend and stretch while doing routine housework
–     Rake leaves; bend over to put them into bag or trash can
–     Walk your dog to reach varying levels of cardiovascular endurance
Keep a smile on your face and a bit of pep in your step and before you know it (especially here in beautiful Arkansas), the months are rolling around to Springtime again.
Cassie Bartley, Fitness Coordinator