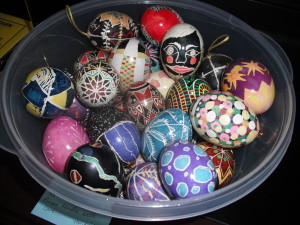 Chuck Dawson, FFB resident and fishing enthusiast, offers his students the chance to learn the ancient art of Ukrainian Egg Decorating. Chuck has never had an unhappy student in his time of teaching hundreds of to create their own beautiful Ukrainian Egg, suitable for a place of honor in our own home or gifting to that special loved one we know appreciates this fine and delicate art design. Fashioned on a fragile egg, and then sealed, this piece of art will be preserved for all time (although handling with care is most important!). Sign up today.
To see more of our students in action, you can log on to our facebook page: Community Education Center at Fairfield Bay. If you'd like to receive our course listings via email, send us an email to: [email protected] including your full name, phone number (for emergency changes only) and your email address and ….you're in the loop! If you are planning a vacation to Fairfield Bay, we do offer a full range of one day courses including: Oil Painting, Jewelry Making, Ukrainian Egg Decorating, Relaxation Techniques, Taking Better Photos, Internet Tips and Tricks, and Herb classes. If you don't want to email or facebook us, simply call 501-884-4440 and we'll work with you through mail or phone calls. We are easy to find and hard to forget!
Fall II Schedule Offers Something for Everyone
The Fairfield Bay Community Education Center continues to offer classes to all Greers Ferry Lake area residents. Our Annual registration fee remains the same low price as we pass our 2nd anniversary of operation. The annual registration fee of $25 affords each person the opportunity to schedule classes in a wide range of subjects for a truly remarkably low tuition price ranging from $15 to $35 for courses lasting a few hours up to five sessions over a five week period.