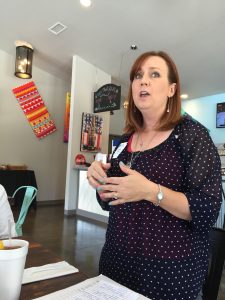 The Van Buren County Board of Realtors met on Friday, May 20 at the Cool Pool Café for a luncheon sponsored by Primary Residential Mortgage. The Board was updated on key issues from Washington regarding Real Estate by Arkansas Realtors Association District 1 Vice President, Sandra Kelley. Having just returned from Washington and a key session of congress, she was pleased to inform us that two very important pieces of legislation affecting sales of Real Estate had passed in Congress and were on their way to the Senate. The first bill affects the sale of condos where the loans are FHA, VA, or USRD. Currently, the criteria for these loans; owner to investor ratios and insurance requirements restrict the sale of many condos. Fairfield Bay offers many condo sales and is most affected in this area. The new legislation would free up restrictions allowing these loans to be more accessible to buyers. The second piece of legislation affects the purchase of property using the USRD loans ,which many of us in Van Buren County find to be the best loan for our first time home buyers. With many smaller homes in our area, this loan is an important tool in sales. The new reforms would shorten the time frame that the loan is in Rural Development Underwriting (currently it is between 7 and 20 days) and would provide for a "direct" underwriting process. All this to provide the closing dates to be shortened from the almost 90 days we are now seeing.
Sandra Kelley also spoke on the Beverly Carter Safety Certified Office Program. During the next few months, you will see many of the offices in our area become Certified Safe Offices. Following the death of Realtor, Beverly Carter, safety of Realtors has become a primary concern for the industry. As we are seeing more and more violence directed toward Realtors (robbery, assault, etc.), the industry as a whole has developed a program that allows offices to implement key guidelines for their agents and brokers to follow when serving the community's real estate needs. We ask that as you see our logos for Safe Office go up, you help us to follow these guidelines and insure the safety of all Realtors.
Conan Watters of Primary Residential Mortgage, Inc. spoke to the Realtors regarding the availability of mortgages in our market area. The Van Buren County Board of Realtors strives to stay up to date and informed to better serve our public.