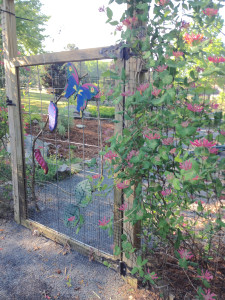 Van Buren County Master Gardeners would like to thank the community for supporting our annual Plant Sale which took place last month. It was a great success and over 250 of you went home with colorful and unique plant purchases. The weather cooperated and a good time was had by all. Though we had an incredibly wet spring, we still need to prepare for summer's heat. It is amazing how quickly container plants can dry out so be sure to set a schedule of watering and fertilizing regularly for optimal growth and blooms. Also, remember to deadhead annuals and perennials to keep them blooming longer. Mulching around plants helps keep the moisture in the soil and should be done in both your garden and containers.
The Ed Leamon Park Butterfly Garden is located in the middle of the park and is surrounded by a tall deer fence with a colorful wooden gate. Last year the garden received a much needed face lift. The garden had become overgrown and it was time to rethink plant location and overall design. A sturdy walking path of crushed stone as well as a bench for resting were added. Today you will find about 28 different plants in the east side of the garden and 29 in the west side. All of the different species create a pleasant visual for visitors and a wonderful habitat for a variety of local butterflies including monarchs and swallowtails. You will see honeysuckle, dianthus, black-eyed susans, shasta daisy, summer flox, golden spiraea, joe pye weed, butterfly bush, sweetspire, milkweed, liatris, lantana, balloon flower, just to name a few. This year we also added a small fairy garden that adds even more charm to the flower beds.
For more information about the Master Gardener program, please contact Verna Hicks, President, VBC Master Gardeners at (501) 884-3164 or our VB County Extension Agent Danny Griffin at (501)745-7117.