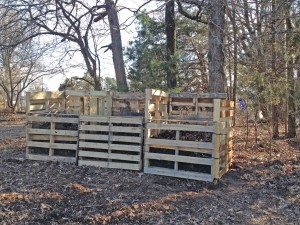 by Cynthia Lacken, Master Gardener
Knowing that February is a good time to start "spring cleaning" in the garden or yard, the Van Buren County Master Gardeners have already been busy. Spring activities include cutting down last year's ornamental grasses and spent perennials as well as removing leaves and debris from flower beds, gardens and lawns. We have already had work days in Clinton and Ed Leamon Park in Fairfield Bay. One of this year's projects is to create compost bins behind the shed in Ed Leamon Park for the huge volume of leaves and plant debris that the Master Gardener's generate while tending the gardens. This is a great way not only to keep the park tidy, but also to create nutrient-rich compost that can go back into the beds. Most of the Master Gardeners use compost piles or bins in their own gardens, with excellent results. At the park, we used 10 pallets, generously donated by Mr. Gary Pack of Gary Pack Lumber & Floor Covering of Clinton. We used simple zip-ties to connect the pallets and ended up with 3 large bins that will keep all the composting materials contained. Composting relies on a combination of "green" items (which have a high nitrogen content) such as fruits & veggies, coffee grounds, grass clippings, etc. and "brown" items (which have a high carbon content) such as dead leaves, hay, straw, shredded paper, etc. You want to have a balance of both green and brown items for the richest compost. Other "good stuff" to add to your compost bin include fireplace ashes, shredded newspaper, nutshells (unsalted), pine needles, sawdust, and pet hair. You do not ever want to add pet waste, kitty litter, meat, bones, dairy products, fats, oils, grease or anything treated with pesticides to the compost bin. Give the materials a stir once in a while to aerate, then sit back and wait for the magic to happen. The hardest thing about composting is to be patient!
We encourage anyone interested in learning more about composting, gardening or the VBC Master Gardener program to contact President Mary Lou Horvath at (501)884-6934 or VB County Extension Agent Danny Griffin at (501)745-7117.