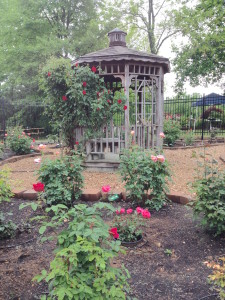 August finds us all in the middle of a hot and very sunny summer. Flowers are in full bloom and vegetable gardens are overflowing with edible delights! By keeping your annuals and perennials deadheaded you will encourage continued blooms. You can also pinch back those leggy annuals and fertilize to encourage a burst of new growth. We are able to mitigate heat stress by keeping everything well-watered and mulched. And of course, keeping those weeds at bay will help your plants get the moisture and nutrients that you so painstakingly provide!
The Ed Leamon Park Rose Garden is easily recognizable by the 7 foot black wrought iron fence and the gazebo in the middle of the garden. It holds sixty roses in four quadrants as well as one climbing rose on the gazebo. Most of the roses are of the hybrid tea variety, which are commonly called "long stemmed" roses. The last couple of years have been challenging for them as they were damaged by the extreme winters and this year by the torrential spring rains. A team of eight Master Gardeners work in the garden weekly to deadhead, weed and spray the roses for both insects and disease. We also have an irrigation system set up to assure consistent deep watering. There are colors ranging from the deepest red to pale lavender and every shade of orange, yellow and pink imaginable! This year, we gave the garden a "face lift" which included completing the stone borders on all the quadrants as well as a fresh layer of stone on the pathway. The irrigation system was updated and mulch applied. Lastly, we will be adding new plant markers in the near future. Please be sure to stop by and smell the roses! You will be glad you did.
And for more information about the Master Gardener program, please contact Verna Hicks, President, VBC Master Gardeners at (501) 884-3164 or our VB County Extension Agent Danny Griffin at (501)745-7117.