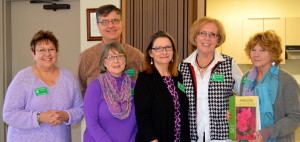 The Van Buren Master Gardeners held their monthly meeting and belated Christmas potluck on January 13, 2014 at Petit Jean Electric's conference room in Clinton.
Eight new Master Gardeners for 2013, taking the required 40 hours course sponored by U of A Horticulture Department, and two transferees, were welcomed and presented with a set of Southern Living gardening books. l-r -Cynthia Lacken, Mary Ratcliff, Linda Yarman, Beth Tucker. Back row -Dan Ratcliff . Not shown Kaye and William Miles, Karen Mulder.
Transfers l-r -Gloria Wright from Cleburne County and Gracie Campbell from Union County.
Barb Foster was presented with a box of Biscotti for having worked the most hours, (157.5 sanctioned project work hours). Barb devoted most of her hours working tirelessly on the beautiful Rose Garden in Ed Leamon Park.
New officers for 2014 are President Verna Hicks, Vice-president Bob Berdine, Secretary Maud Huber, Treasurer Freida McClellan, Project leaders Steve Smith and Barb Kottler.
Lifetime members and their years of service were recognized. Beverly Stancil, with 17 years, Bob and Sharon Berdine -16 years, Larry and Jeannie Castro, Fran Hunkins, and Al Marron -15 years. Happy 88th birthday to long time Master Gardener Al Marron, proving you're never to old to garden.
The Van Buren County Master Gardeners are looking forward to another successful year in 2014 with our annual plant sale on May 10 in conjuntion with Fairfield Bay's "Blooming in the Bay."
Thank you to all the 2013 VBC Master Gardeners for all their hard work to make our county a more beautiful place to reside.