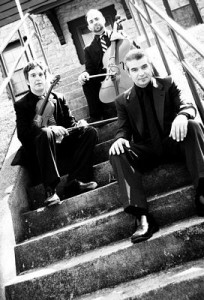 Trio Arkansas is coming to Fairfield Bay on Saturday, April 20, at 3 p.m. for a concert at the Kirk of the Hills, located at 250 Dave Creek Parkway. This concert is brought to you by The North Central Arts Foundation for Arts & Education, a non-profit organization bringing arts to the area.
This extremely talented trio was formed in 2010, and is committed to performing great works of the piano trio repertoire across the state of Arkansas. The Trio is dedicated to fostering the works of living composers, especially those with connections to the state of Arkansas.
Geoff Robson, violin, has been the Associate Conductor of the Arkansas Symphony Orchestra since 2008. He completed his M.M. at Yale University in 2004, studying violin performance with Erick Friedman. David Gerstein, cello, is currently the principal cellist of the Arkansas Symphony Orchestra, and the cellist of the Quapaw String Quartet. David is a devoted performer of chamber and contemporary music, and has played concerts all over the world, from the stage of Carnegie Hall to the Great Wall of China. Louis Menendez, originally from Manhattan, New York, and now a resident of Hot Springs, has conducted and musically prepared over 140 opera productions in the USA, Europe, Israel, and Japan. He served on both faculties of The Curtis Institute of Music and the Academy of Vocal Arts for a number of years after his graduate studies at Temple University.
What started as afternoon chamber music reading sessions has quickly blossomed into a steady performance schedule, with all three members engaging with their Arkansas communities and organizing concerts. Highlights from the past season include performances at the Garvan Gardens in Hot Springs, as well as the First United Methodist Church in Little Rock. This season, the Trio will perform the complete piano trios of Ludwig van Beethoven.
For more information contact Lea Berry at 884-6288.