by Scout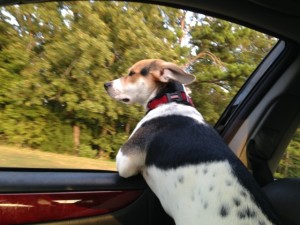 When the virus of restlessness begins to take possession of a wayward man, and the road away from Here seems broad and straight and sweet, the victim must first find in himself a good and sufficient reason for going.
-John Steinbeck Travels With Charlie
Humans are funny; they don't get it. You're sad. You're angry. You're frustrated. There's an easy solution to your problems and disappointments. Just get in the car and drive. That's what my master and I are doing starting Friday. His name is Thom and admittedly he has the tougher part of the plan: he has to do the driving. But if you are like me, you just stick your head out that passenger side window, into a 60-mile-per-hour breeze and let your troubles blow off your face and into the rearview mirror.
Steinbeck and Kerouac had it right, although in my opinion On The Road would have been a better read if it included a good canine character. That's why I prefer Travels With Charley. My master tossed a dog-eared (heh heh) copy of each into his book bag so he can make comparisons along the way. Of course, America's changed a lot since the '50s, so we'll see how our journey compares to the ones taken in those classic books.
You see, my master is feeling restless. It's been a challenging and somewhat sad summer. He's been looking forward to this trip for some time. Besides, two of his three children live west of here. And there are numerous friends along the way, not to mention the places he's never seen before. So why not hit the road? The editor here at the News says I can keep you updated on our progress. I think I'll do that. In the meantime, I've got to get my head out the window and my nose into the wind.