By Thom Dillon
"And when the fog's over and the stars and the moon come out at night it'll be a beautiful sight."
Jack Kerouac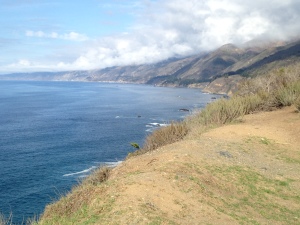 There is much to dislike about the State of California: the stressful and smelly traffic congestion; the garish boys, girls, men and women hanging around tourist attractions who start posing the moment they see either a camera or an opportunity to receive a personal donation; the bumping, crushing crowds lined up for a ride at Disneyland or Universal Studios Hollywood. The people and the cars never seem to fade, never offer the chance to turn away and be alone.
Then there is the most remarkable escape from it all. There is the Pacific coastline that runs from Monterey to San Simeon. It is also known as Highway 1 or the Pacific Coast Highway and winds the entire length of the state. But, oh, the beauty and the ruggedness and the peacefulness of those 100 miles. The juxtaposition of the rough, craggy and overwhelming force of the steep mountains falling haphazardly down to the ocean with the delicate splendor of the scene is so spectacular you sometimes doubt your eyes. But there it is, glorious, awe-inspiring and like little else.
Only one other place in the continental 48 matches it for me. Jackson Hole, Wyoming and the Grand Tetons share the limelight in my mind. They are the places I would most like to live. Of course, there is one small detail that looms over my desire – I can't figure out how to afford living in either place. The beauty and the quiet and the uniqueness of each locale has attracted the big money and priced out most of us who want to experience these wonderful natural creations in all their grandeur.
I stayed in a cabin at a campground in Big Sur. I walked outside to star gaze that night and the beauty above me was overwhelming. (I am a long-time stargazer, and this happens quite often, but not to the degree it did this night.) Two colors were all that was needed, black and white. The night sky was awash in stars, as if Van Gogh or Pollock had hurled brushes full of silver paint at a giant black canvas. Even the hundred-foot tall Redwoods and the other trees surrounding me fell short as they reached up to touch the stars.
That's when the line from Jack Kerouac found its way into my brain. It made perfect sense, though. The quote is from his book, Big Sur.