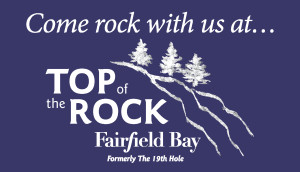 The Club hosts welcome breakfasts for Wyndham guests to make visitors aware of all the Bay has to offer, but it is also a great opportunity for us to learn what our guests desire. Younger families with children are an ever increasing segment and they are seeking a kid friendly venue that also provides Mom & Dad with great food and indulgences they may not enjoy at home.
The name change eliminates the notion that the venue is just for golfers. The menu is family friendly and the ice cream offering attracts mid afternoon or after dinner outings as well. All of our most popular menu items remain. Fine dining options remain.
Many vacationers enjoy tasting "local" flavors when a cold beer is on their mind and Top of the Rock is introducing it's own Arkansas hand crafted "Bay Brew." A treat for visitors and sure to become a local favorite.
We listened carefully to our Bay visitors and Top of the Rock is already serving a growing clientele. Join us for the grand opening tomorrow, June 27th from 4:00 until 8 p.m. Grab a great burger, taste a Bay Brew and enjoy a free ice cream cone.
The Board would also like to extend a special thank you to our many regular supporters of the Club. Your input and ideas were invaluable during our planning efforts for this transition. Come celebrate with us and meet Jon Bradley, the new Club Manager. He's looking forward to seeing you there – often! Community Club Board of Directors Dwayne Miller