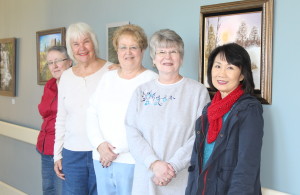 These artists hung more than 40 paintings at Ozark Health Medical Center. The public is invited to enjoy this free exhibit of local art. Shown here are (from left) Alison Shreck, Joyce Hartmann, Ellen Kelly, Joyce Hubbard, and Yun Kim.
The North Central Arkansas Artist League has just hung a new exhibit of more than 40 original paintings and prints by 12 local area artists at Ozark Health Medical Center. Entitled "'Tis the Season: An Art Potpourri," the exhibit features favorites and seasonal art in watercolor, oil, pastel, colored pencil, and ink.
The exhibit will hang through February 8, and can be viewed by the public in two hospital locations. The exhibit upstairs near the cafeteria is open from 8 a.m. to 9 p.m. seven days a week. The one downstairs in the new south wing of the outpatient clinic is open from Monday to Friday 8 a.m. to 4 p.m.
Artists include Ellen Kelly, Alecs Long, Alison Shreck, Charlotte Rierson, Kathleen Hadley, and Pauline Sears, of Fairfield Bay; Diana Foote of Holly Mountain; sisters Julie Caswell and Jan Cobb of the Edgemont and Greers Ferry area; Joyce Hubbard and Yun Kim of Mt. View; and Joyce Hartmann of Choctaw. They showcase some of their favorite paintings including florals, local landscapes and gardens, birds, animals, cabins, tepees, barns, and more. Paintings of Santa show him working out, eating cookies, checking his list, and just generally spreading Christmas cheer. They painted a jay, an owl, a heron, a yellowthroat, even an emu…along with waterfalls, snow scenes, ponds, cozy cabins and cottages.
It is hoped that the art brings cheer to patients and their families who face devastating illness, as well as nursing home residents and staff. Being ill during the holidays often seems worse than any other time of the year.
Paintings can be purchased at the Gift Shop, with a portion of the purchase going towards the Hospital Auxiliary to help patients and families.
The Artist League also has exhibits at the Greers Ferry Library, Fairfield Bay Library and other locations. They meet in Fairfield Bay each Monday morning to paint together and hold workshops. For further information about the exhibit, contact hospital exhibit coordinator, Joyce Hartmann. To find out more about the Artist League, contact President Joan Bland or any other member.
Come and see the potpourri!