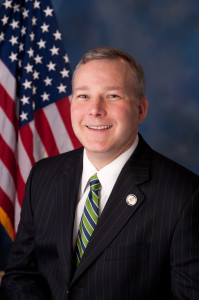 Congressman Tim Griffin (AR-02) will speak at the Rotary Club luncheon on May 1 about his work in Washington, D.C., as a member of the powerful Ways and Means Committee.
"I am looking forward to visiting with everyone next week," Griffin said. "A key part of finding ways to better serve the folks I represent is to keep the conversation going – to hear what's on people's minds and update them on the latest issues that they care about."
Last month, the House passed its budget, which restrains the annual rate of growth in federal spending to 3.4 percent, saving taxpayers $4.6 trillion over the next 10 years. By 2023, the House budget would turn our country's annual $1 trillion deficit into a $7 billion surplus, balancing the budget for the first time since President Clinton partnered with House Republicans. The House budget also saves and strengthens Medicare for future generations while protecting it for current seniors and those approaching retirement age.
"House Republicans are focused on saving Medicare from bankruptcy, growing our economy naturally from the bottom up and balancing the budget without raising taxes on hardworking Americans," Griffin said. "Our budget is a smart, new approach that will protect vital programs, like Medicare, for folks like my own mom and preserve them for their grandkids too."
By law, the President must submit a budget each year on the first Monday in February. President Obama has failed to meet this deadline four out of the past five years, including this year. His past four budgets have all included annual deficits exceeding $1 trillion. Last year, his budget failed to garner a single vote in the Democrat-controlled Senate. During his presidency, the federal debt has increased by more than $5.8 trillion, reaching a record $16.7 trillion debt.
The President submitted his budget on April 10.