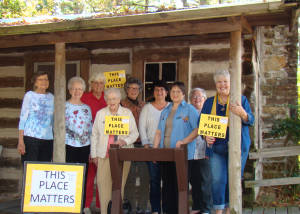 The Indian Rock Questers are highlighting their preservation and restoration log cabin project during the "This Place Matters" campaign of the National Trust for Historic Preservation. The Questers, founded in 1944, is an international organization whose mission is the study of antiques and the support of historic restoration and preservation. The Indian Rock Chapter began in Fairfield Bay in 1977.
The log cabin was built in the mid-1850s with hand-hewn logs and chinked with mud and straw. It was saved from destruction when it was moved during the 1950s from what is now the middle of Greers Ferry Lake. As the US government prepared to build a dam site near Heber Springs, two cabins were disassembled and rebuilt using cement instead of chinking materials. The smaller of the two cabins was placed in Fairfield Bay.
The Log Cabin gives us a taste of home life in the late 1800s. The fireplace was constructed from local stone with a mantle of rosewood, walnut and pine. The original "trundle-style" bed, complete with a corn shuck mattress, stands against one wall. A variety of tools and household items can be seen along with clothing and toys, a loom and a weasel of yarn winder. A kitchen, separate from the original log cabin, is in the back room and it holds many items that the "lady of the house" might have used in the mid to late 1800s.
For more information about "This Place Matters," visit their website at www.preservationnation.org.
For more information about The Questers, who partner with the National Trust to showcase the places that matter across the country, go www.questers1944.org.