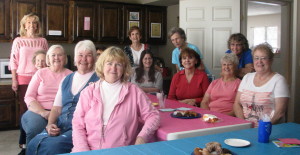 Artists in the North Central Arkansas Artist League are both wearing pink and painting in pink to honor National Breast Cancer Awareness. Shown here at Bayside, their artist studio in Fairfield Bay, are (clockwise from foreground) Alecs Long, Joyce Hartmann, Jan Cobb, Lea Berry, Charlotte Rierson, Doris Sexson, Judy Shumann, Michelle Bry, Jeanne Homuth, Kathleen Hadley, Pauline Sears, Karen Brownson, and Ellen Kelly.
By Joyce Hartmann
The North Central Arkansas Artist League hung a new original art exhibit, "Think Pink," in the hallways of the Oncology Clinic, Ozark Health Medical Center, Clinton. The exhibit will hang until Jan. 12, 2015. Each piece of art uses the color pink in honor of National Breast Cancer Awareness.
During October and throughout the year—people wear pink to honor survivors, remember those lost to the disease, and to support the progress people are making together to defeat breast cancer. Several of the members are also cancer survivors, and came up with this idea to promote awareness.
The NCAAL consists of 42 members, most of whom live in Fairfield Bay, Greers Ferry, Clinton, Shirley, and other Arkansas towns within a 50-mile radius. For this exhibit, 14 artists are exhibiting their works in watercolor, oil, acrylic, collage, and print media.
The public is invited to view this exhibit by entering the hospital's southeast entrance to the oncology clinic between 7 a.m. to 6 p.m. Monday through Friday. Paintings can be purchased at the Gift Shop. Further information can be obtained by calling Exhibit Coordinator, Joyce Hartmann, 501-745-6615 or contacting any NCAAL member.