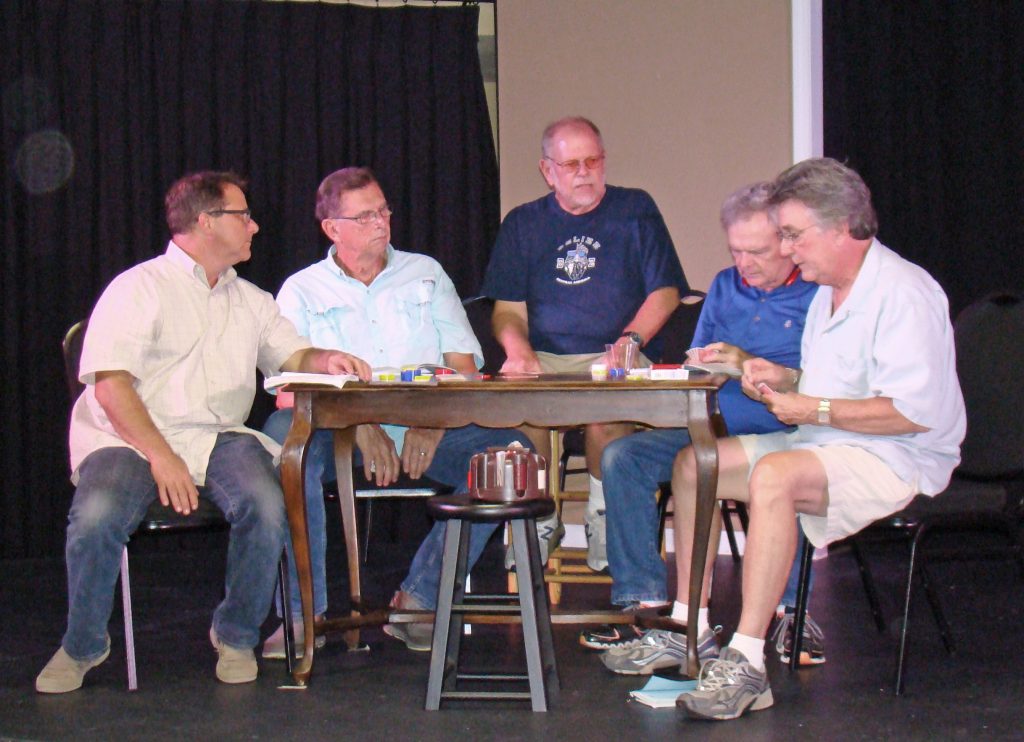 Seated at the table are some of Oscar Madison's buddies, trying to get through an evening of poker. From left to right is; Vinny (Doug Landry), Murry (Robert Otis), Oscar (David McBee), Speed (Thom Dillon) and Roy (Ron Phillips). Late to arrive is Felix Unger (Dan Feuer) who has just broken up with his wife. Depressed, Felix seems suicidal, but as the action unfolds, Oscar becomes the one with murder on his mind when the clean-freak and the slob ultimatley decide to room together with hilarious results.
Other characters include Cecily (Kim Feuer) and her sister Gwendolyn (Freida McLellan) who live upstairs and are invited for an evening of dinner and drinks that turn disasterous.
Be sure to come and enjoy an evening of fun and laughs as the Odd Couple takes the stage at the Fairfield Bay Conference Centers Performing Arts Theater with four performances. The first perfomance is Friday, September 16 at 7 p.m., then Saturday, September 17, 7 p.m., Sunday, September 18, 2 p.m. with the last performance on Monday, September 19 at 7 p.m.
Ticket are $18 per persone and the proceeds benefir the Fairfield Bay Library.